Baltimore Karaoke FAQ
About Us: Baltimore Karaoke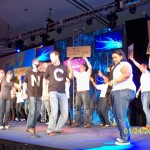 BaltimoreKaraoke.net is a Baltimore based Karaoke service that spans throughout Maryland, D.C., Pennsylvania and Northern Virginia.
We're known for Events That Create Lasting Memories!





Here are a few main questions we receive from our clients all the time on what makes for a great Karaoke event and below we want to share with you the questions and answers we put together that people want to know…
Q. What makes a great Karaoke Event?
A. Baltimore Karaoke: The best songs that fit the mood and theme plus having a great emcee to keep the crowd involved.
Also have a wide selection of music with great sounding karaoke equipment.
Q. How much music should the karaoke DJ have available at the show?
A. Baltimore Karaoke: At least 3000 songs or more.
Q. What type of music works best at a karaoke show?
A. Baltimore Karaoke: Just about any music can work well but here's a handful of crowd pleasers we have come to know
from performing many Baltimore Karaoke events:
* Mainstream Rock
* Modern and Alternative Rock
* R&B and Soul
* Oldies
* Religious
* Current Pop
* Standards and Big Band
* Showtunes
* Urban and Rap
* Classic Rock
You can't go wrong with such a wide selection of music!
We carry over 10,000 titles, enough to please any singer at any event!
For more information contact us today at: 410-828-9168
Baltimore Karaoke Rocks For You!